JOIN IN ON THE FASTEST GROWING TREND IN ROOFING
From just 3.7% of the market back in 1998 to 13% in early 2020, the metal roofing industry only continues to grow as more residential and commercial consumers realize the value of this long-lasting, eco-friendly roofing material. You've probably noticed in your roofing business that the requests for metal roofing have grown. Thus, you need a metal roofing manufacturer who can not only meet this high demand with the highest-quality products, but can also ensure exceptional customer service every time.
Griffin Iron Werks Machinery offers the best metal roof panels, wall panels, and side panels. We are a metal roofing manufacturer based in Nashville, GA, making all of our metal roofing supplies in-house, ensuring you have the highest-quality metal roofing materials for your residential, commercial, and industrial customers. All metal roofing supply orders are cut to order and customized to your needs. Our metal roof panels come in a variety of colors, from Country Red and Forrest Green to Sand Stone and Roman Blue. Our mission is to ensure you have exactly what you need when you need it. We can manufacture your metal roof panels and have them at your door when you need them, resulting in no delays in your construction projects. Our team works diligently to ensure you are 100% satisfied. Give our metal roofing manufacturing company a call today!
SOME OF OUR METAL ROOF PANEL OFFERINGS:
We are here to help you with any and all of your metal roofing needs! Below are some specs to help you get started. If you aren't sure what you want, give us a call or fill out our form and we can get a specialist on the phone with you to get an estimate!
29 gauge, 36" wide classic rib panel and PBR, cut to any length you need.​
Cut to order.​

Galvalume​

Color: White, Charcoal, Roman Blue, Gallery Blue, Tan, County Red, Forrest Green, and Sand Stone.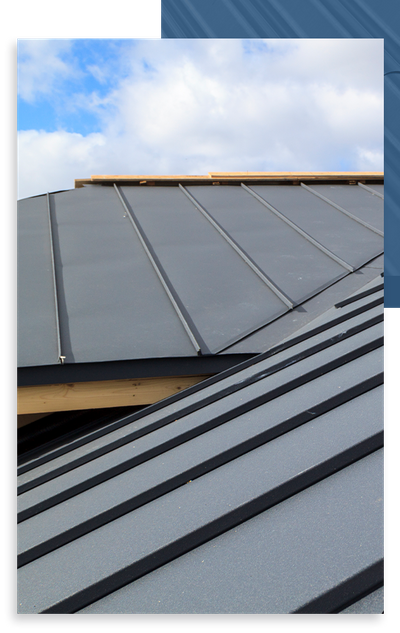 WHY CHOOSE METAL ROOF PANELS?
Extremely durable. While there are many different types of metals you can choose for your roofing material, all metals are extremely strong and durable. They are made from elements in the earth with strong chemical bonds that when combined with other materials yield incredible fortitude. With proper maintenance, metal roofs panels can last 50 years or more. Contact Griffin Iron Werks in Nashville to learn more about our metal roof panels today.
Lightweight. For such a strong material, you would expect it to be heavy. However, metal roofs are extremely light and are often installed over existing shingle roofs and roofing materials, making your roof extremely strong indeed. They require less supporting materials below, saving you on home addition costs as well.
Environmentally-friendly. Because metals are naturally-occuring substances, metal roof panels are 100% recyclable, making them one of the most eco-friendly roofing materials in existence. If you are looking to reduce your carbon footprint, then choose metal roofing panels manufactured by Griffin Iron Werks in Nashville today.
Energy-efficient. Metal roof panels interlock, leaving no room for moisture or air to get in or out. This saves on utility costs as you won't be wasting energy heating or cooling your home from air lost in the attic. In addition, metal naturally reflects sunlight, helping to keep your home cool in the summer, and darker-colored roofs can help with snowmelt in the winter time as the metal roof panels heat up quickly.
Low-maintenance. Metal roofs tend not to collect debris as much due to their slippery surface. Metal, in general, does not require as much maintenance as asphalt shingles, and since they are stronger than asphalt shingles, there will be less maintenance when storms hit. Invest in metal roofs with our metal roof panels today.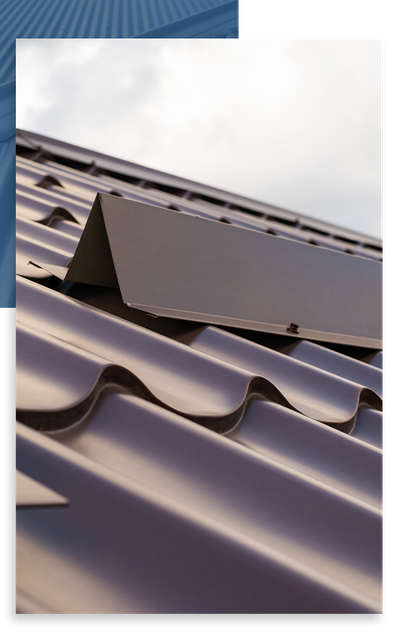 COMMON TYPES OF METAL ROOFING PANELS AVAILABLE
PBU

5V Crimp

Rustic Trail

PBC

Rib

PBR

Corrugated

Insulated Metal Panels
It's important to keep in mind the two main types of metal roof installation: exposed fastener and the standing seam/concealed fastener. As you can see, the main difference lies in whether you can see the fastener or not. Standing seam metal roofing systems feature interlocking metal roof panels to form vertical seams. This is the preferred method of metal roofing installation because the entire metal roofing system has a greater ability to expand and contract with changing temperatures, and this roofing system holds a greater aesthetic value with the fasteners being hidden. Our metal roofing manufacturing company can help should you have questions.
WHY CHOOSE GRIFFIN IRON WERKS?
Manufacturing high-quality metal roof panels is not a walk in the park. It takes know-how, ingenuity, and precision in order to cut the metal panels just right so that they will fit together. Griffin Iron Works in Nashville manufactures our metal roofing machines, which ensures that our metal roof panels will not fail. This quality control gives our customers peace of mind that they are receiving the best metal roof panels available. We can often take metal roof panel orders and have them ready for you that same day. We custom cut these metal panels to order, which helps us to eliminate waste and reduce our carbon footprint on the environment.
We understand that you have a wide variety both in roofing materials and in metal roofing suppliers. Griffin Iron Werks distinguishes itself by bringing you metal roof panels that are easy to install, strong, durable, aesthetically-pleasing, and affordable. In roofing, materials behind labor are often the second-biggest expense roofing companies face. Thus, just even small savings can add up quickly in the roofing industry. Keep in mind that we manufacture both the metal roof panels and the trim in a wide variety of colors to meet your customers' needs. We aim to ensure you are 100% satisfied with our services.
Our family-owned metal roofing manufacturing business in Nashville, GA, is passionate about sharing our love of metal roofs and their many benefits with others. Reach out to our team to learn more about our metal roof panels, and get a free estimate today!